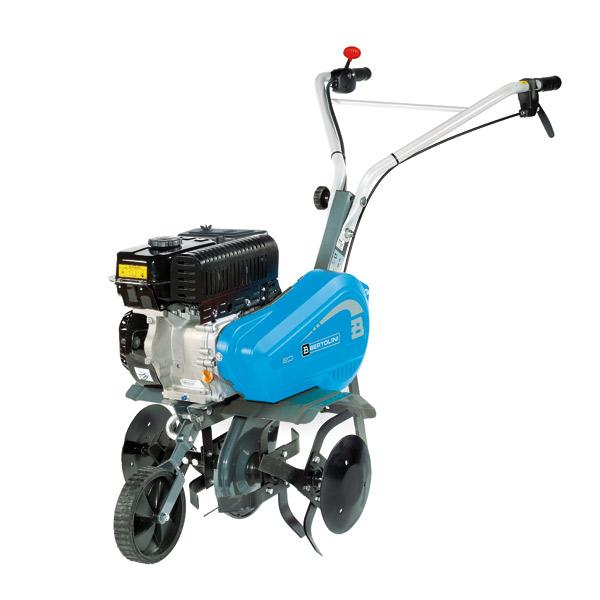 BERTOLINI 201 belt-driven rotary tiller Engine Emak 5,7 Hp
Ciampelli Price: On demand
BERTOLINI 201 belt-driven rotary tiller Engine Emak 5,7 Hp
Designed for more demanding home use, for those needing to till and weed small allotments, this model offers an excellent combination of manageability, resistance and high performance.
Petrol engine with recoil start.

Chain drive offers maximum reliability.

Height-adjustable

handlebars

, allowing the operator to work at the correct height, and on request also width-adjustable, to move about easily even in tight spaces without treading on tilled ground.

Adjustable control bar to control the working depth.

60 cm

rotor

with side protection discs, can be extended to 80 cm on request.

Rotor

guards with extension for operator protection and safety.

Front transport wheel to facilitate machine transportation.

Safety lever on handle, to lock the

rotor

in an emergency and to prevent hazards.
TECHNICAL DATA
Engine
Emak engine 182 cc power 5,7 HP
Starting
recoil

Transmission

chain
Gearbox
1-speed (1 forward)
Speed (km/h)
1st: 8.00

Rotor

rpm with engine at 3600 rpm
1st: 140
Clutch
belt with tensioner

Handlebars

height-adjustable and, on request, width-adjustable

Rotor

60 cm with side protection discs

Rotor

guard
as standard with extension
Front transport wheel
standard
Towing hitch
standard
Weight
60 Kg
Safety devices
safety lever on

handlebar