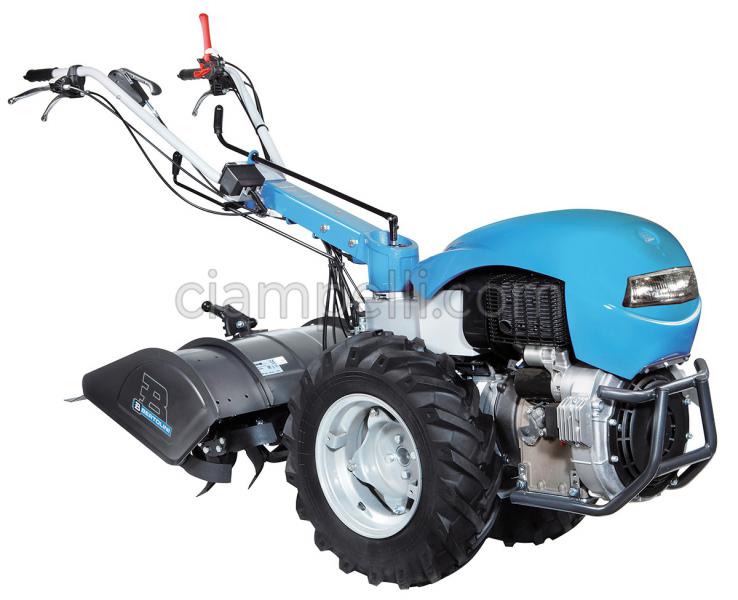 BERTOLINI 418 S two wheel tractor, Engine Kohler CH 440, Tiller 80 cm, rubber wheels 6.5/80-12
Ciampelli Price: On demand
BERTOLINI 418 S two wheel tractor, Engine Kohler CH 440, Tiller 80 cm, rubber wheels 6.5/80-12
Its characteristics of high power and reliability make this model perfect for farmers and ground care professionals. Combines exceptional ease of handling and versatility with the ability to work on all types of terrain safely, thanks to the self-locking differential and 5-speed gearbox. The powerful engines available for this model are exploited in full thanks to the reinforced half-shafts, while the large size final reduction gears on the axle ensure efficient transmission of the full engine power while increasing the machine's ground clearance.
Reinforced half-shafts with final reduction drives incorporated in the transmission assembly for more grip on difficult terrain.
Two power take-offs, one independent two-speed PTO and one synchronised PTO
Accessories coupling by means of flange on the PTO.
Technical data
Gearbox 5-speed (4 forward + 1 reverse)
Reverse gear yes, with gearshift lever
Transmission with gears in oil bath
Handlebars height- and width-adjustable, 180° reversible, with vibration-damping device
Power take-off 2 power take offs: one indipendent 2-speed PTO (1° 540 rpm - 2° 900 rpm) and one synchronised PTO
Accessories coupling flanged to PTO
Cowling yes, with integral tool compartment/battery box
Weight (with diesel engine, rotor and wheels) 270 kg
Tiller 80 cm
rubber wheels 6.5/80-12