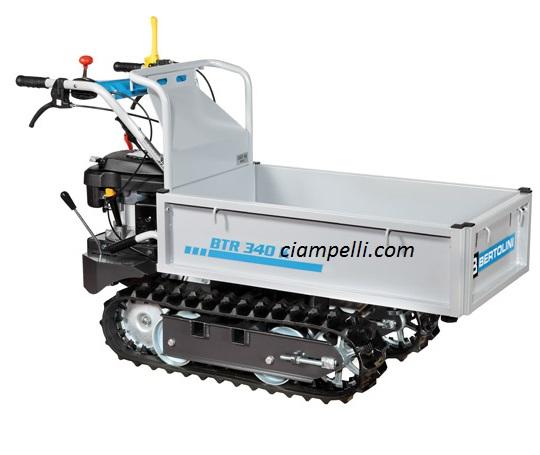 BERTOLINI BTR 340H engine HONDA Transporter 350 kg
List price:

3.285,72 €

- 30%
Ciampelli Price:

2.300,01 €
BERTOLINI BTR 340H engine HONDA Transporter 350 kg
Designed for demanding home users who need to transport all kinds of materials such as firewood, fruit crates and cumbersome objects, this machine is highly practical and easy to handle, ideal for moving around in tight spaces.
Petrol engine with recoil start.

Four-speed

transmission

(2 forward + 2 reverse) with oil-immersed gears, for maximum reliability in all situations.

Belt clutch, with automatic disengagement when the control lever is released.

Steering with independently controlled releases and brakes.

Brakes with automatic cut-in when the clutch is released.

Small steering radius to move around easily even in tight spaces.

Telescoping loading platform for transporting even the most bulky loads.

45° dump angle, manually operated.

Maximum slope with full load: 20° (without load: 40°).
Engine
Honda

GCV140 displacement 160 cc

Starting
recoil

Transmission

with gears in oil bath
Gearbox
4-speed (2 forward + 2 reverse)
Speed (km/h)
1st: 1.6 - 2nd: 3.6 - 1st R: 1.4 - 2nd R: 3.4
Clutch
belt, with automatic disengagement when the control lever is released
Steering
with independently controlled releases and brakes
Brakes
with automatic cut-in when the clutch is released
Minimum

turning radius

700 mm
Minimum distance from the ground
65 mm
Track: contact length/width
580/170 mm
Track width
580 mm
Body
telescoping
Load capacity
350 Kg
Lift/dump
manual
Dump angle
45°
Weight
160 Kg
Max. slope with/without load
20°/40°