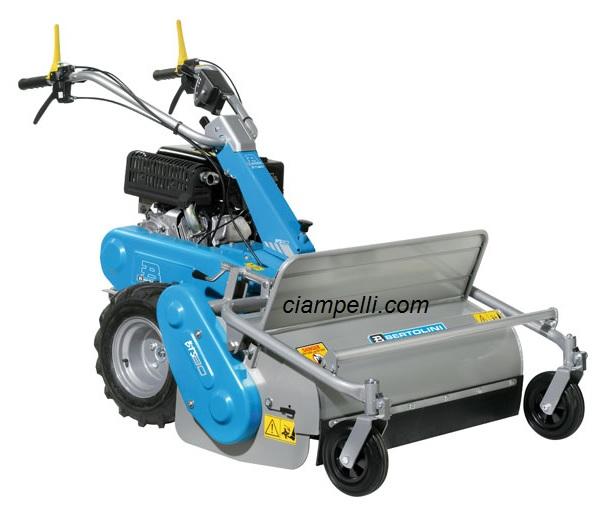 BERTOLINI BTS 80 Flail Mower
List price:

4.819,00 €

- 23%
Ciampelli Price:

3.710,63 €
BTS 80
High-performance, extremely reliable machine offering the same professional performance as the smaller model, with a more powerful engine and greater
cutting width
for excellent results under all conditions.
Petrol engine with recoil start.

Long-lasting reliability guaranteed by the

transmission

with oil-immersed gears.

Extreme versatility, with 4-speed gears (3 forward + 1 reverse), assuring the same working efficiency on the ground depending on hardness and consistency.

The reverse gear makes it easy to manoeuvre and find the right working position.

Belt clutch with tensioner, with separate controls for the cutting unit and

propulsion

.

Wheel locking and independent steering clutches on the driving wheels for easier and quicker.

Handlebars

adjustable to 4 different heights and 5 widths to guarantee the best working position for the operator.

Service and parking brake engages automatically when the clutch is released, to prevent accidental hazardous movements.
Engine
Honda GX 340 OHV 9,5 Hp
Starting
recoil

Transmission

with gears in oil bath
Gearbox
4-speed (3 forward + 1 reverse)
Speed (km/h)
1st: 1.2 - 2nd: 2.2 - 3rd: 3.4 - 1st R: 1.4
Clutch
belt with tensioner, separate controls for

rotor

and drive
Steering
with independent steering clutches and wheel lock

Handlebars

adjustable in height and on the sides
Cutting unit

rotor

with 46 flails
Working width
80 cm
Cutting height
20 - 80 mm, crank adjusted
Service brake
with automatic cut-in
Wheels
tractor 16/6.50-8''
Weight
175 Kg