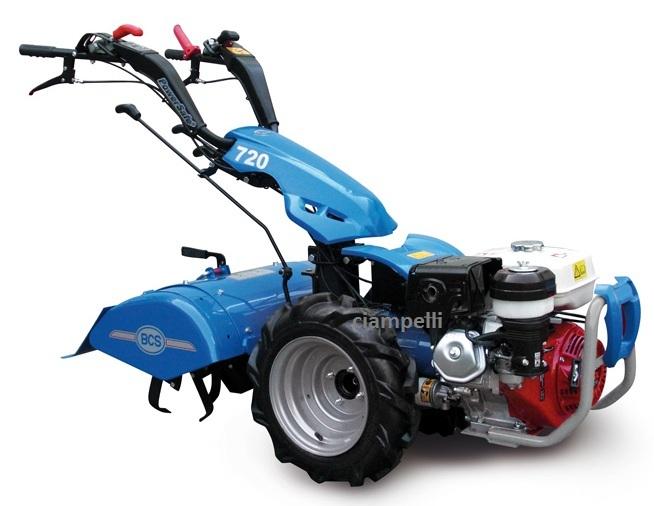 BCS 720 Two Wheel Tractor HONDA GX200 5,5 hp 52 cm Recoil Start
Ciampelli Price: On demand
The 720 two-wheel tractor has a gearbox with 2 forward and 2 reverse speeds and a quick reverser to change the direction of travel. The working and parking brakes are drum-type brakes. The handlebar is adjustable and reversible, and enables the machine to be used with both rear and front attachments.
You may choose from two types of Honda petrol engine: GX200, 5.5 hp or GX270, 8.4 hp or a Lombardini diesel engine: 15LD350, 7.5 hp. The more aesthetic petrol engine is also available with electric starting.
A continuous list of tools is supplied with this model which, as well as "cutting terrain", can be used with extreme versatility for several upkeep and cultivation jobs.
The hydraulic clutch in an oil bath PowerSafe®, allows anyone to approach each BCS two-wheel tractor model, sure that he can always use it safely, with the utmost performance and with the advantage of a cutting-edge technology, already used in the most advanced segment of the automotive.
Four are the principal characteristics of the new clutch:
1. Performance: benefiting from the full capabilities and versatility of the machine without jeopardising its lifespan.
2. Reliability: a hydraulic clutch with no maintenance or adjustment and a practically unlimited duration, even in heavy use with alternating movement tools (cutter bars) or in use at a high inertia level (lawn mower or heavy-duty mower).
3. Security: immediate machine stopping due to an integrated automatic brake. The tool also stops upon release of the handlebar.
4. Comfort: elimination of preliminary stages for engine starting. The engine runs continuously even when the operator releases the handlebar. Controls are ergonomic with a soft, progressive clutch.
ROTARY 52 Cm INCLUDED
Engine

Power (kw/hp)

Fuel

Start

Gearbox

Speed

Reverse gear

Brakes

Differential

Honda
GX200

4,1 / 5,5

Petrol

Recoil

2 + 2

I - 1,14
II - 2,63
IRM - 1,20
IIRM - 2,77

Yes

Yes

No