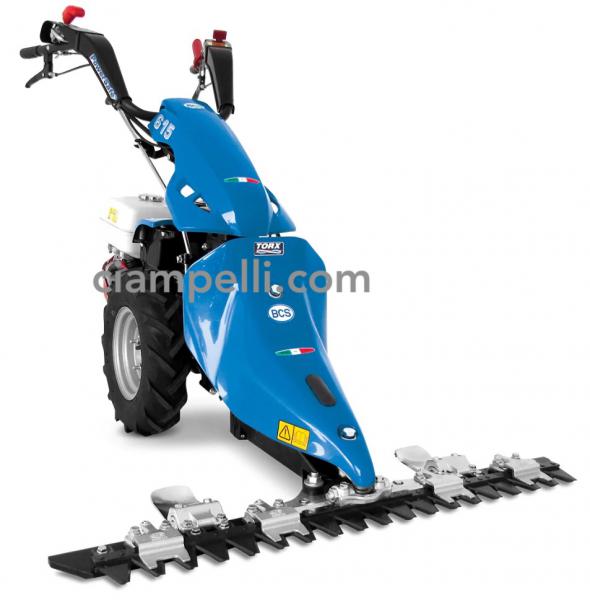 BCS 615 PS PowerSafe HONDA Engine GP160 + Laser Scythe Cutter 100 cm
Speeds
Ciampelli Price: On demand
The 615 mowers feature a 4.8 hp Honda GP160 engine and are designed for recreational use.
The gearbox has 3 forward and 3 reverse speed. The cutter bars are 100 cm with "LASER" profile.
The self-ventilating conic clutches give a high performance even during heavy use and assure a long life. Ergonomic controls reduce manual effort, allowing the operator to get the most out of the machine without stress or strain.
LASER cutter bar:
These anti-clogging bars are recommended for tough and fine grass typical of mountainsides or manicured lawns. Also available with a spring-steel blade-holder to reduce adjustments, improve cutting and performance. It should not be used on uncultivated and stony land.
Engine

Power (kw/hp)

Fuel

Start

Gearbox

Speed

Reverse gear

Brakes

Differential

Honda
GP160

3,6 / 4,8

Petrol

Recoil

3 + 3

Forward:

I: 1.05

II: 2.43

III: 3.58 Reverse:

I: 1.10

II: 2.56

III: 3.77

yes

No

No