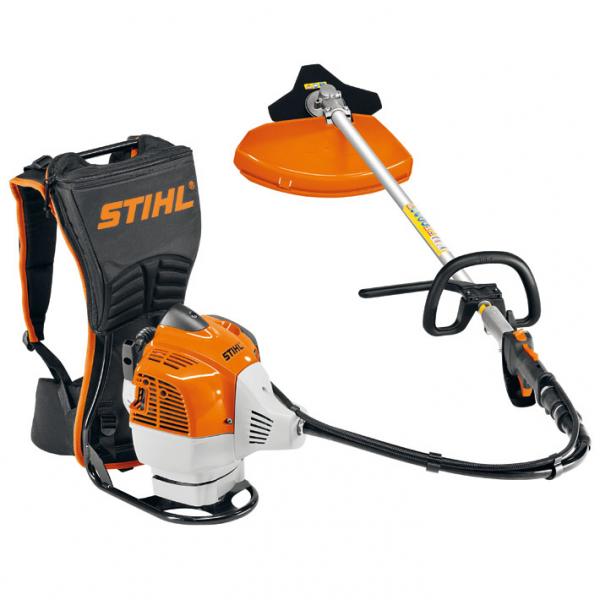 Backpack STIHL trimmer FR 460 TC-E
Powerful tool for work in difficult-to-access areas
Ciampelli Price: On demand
Backpack STIHL trimmer FR 460 TC-E
Fitted with STIHL ElectroStart as standard, for comfortably restarting the tool at the touch of a button. Additional pull starter with STIHL ErgoStart for starting at temperatures below 0°C. STIHL anti-vibration system, multi-function handle, loop handle, 2-MIX engine, STIHL M-Tronic, stop button, tool bag, detachable shaft. The shaft can be detached without the use of tools for easy storage and transport. The shaft is not compatible with the STIHL KombiSystem.
Shoulder strap / carrying system
Using a STIHL shoulder strap or carrying harness with soft padding makes work more comfortable, particularly during lengthy jobs.
Loop handle (R)
The loop handled grass trimmers and brushcutters are ideal for working in areas where space is limited, e.g. thinning between bushes and shrubs.
Multi-function control handle
Easy, comfortable thumb-operated control means the operator's hand never leaves the handle.
Compensator
A controller in the carburettor prevents the fuel-air mixture getting richer as the air filter becomes clogged. The correct quantity of fuel is delivered to the carburettor depending on the quantity of air passing through the air filter. This keeps the fuel/air ratio in the combustion mixture constant and hence also the engine power. The filter doesn't need to be cleaned until an appreciable drop in power occurs.
Technical data
CO² ­ g/kWh
865
Standard cutting tool
GrassCut 230-4
Capacity cm3
45.6
Performance hp
3
Performance kW
2.2
Weight kg 1)
10.9
Sound pressure level with metal tool dB(A) 2)
99
Sound power level with metal tool dB(A) 2)
112
Vibration value, left with metal tool m/s2 3)
2-3.3
Vibration value, right with metal tool m/s2 3)
2-2.5
Total length mm 4)
28
Tank volume l
0.75
EPA Certified fuel consumption l/h
1.023
Power output

kW

/bhp

2.2

/3.0