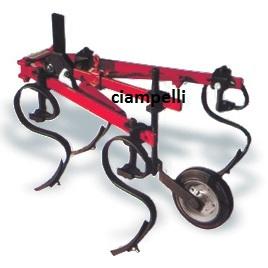 Adjustable Spring Tine Cultivator for two wheels tractors
List price:

339,77 €

- 12%
Ciampelli Price:

299,00 €
SPRING TINE CULTIVATOR FOR Two-Wheel Tractor
The ideal tools for inter-row weeding, and for breaking up previously ploughed ground.
HAND-MADE PRODUCTION: 100 % MADE IN ITALY
MADE OF BEST MATERIALS
This cultivator is ideal for landscaping, yard work or loosening ground for hunting food plots. Use as many tines as you need for desired soil penetration and row spacing.
Tines can slide along the bar
Adjustable coltivator:
Working width adjustable from 90 to 32 cm.