Two Stage snow blower thrower Bittante DS 60 for two 2 wheels tractors BCS Ferrari Pasquali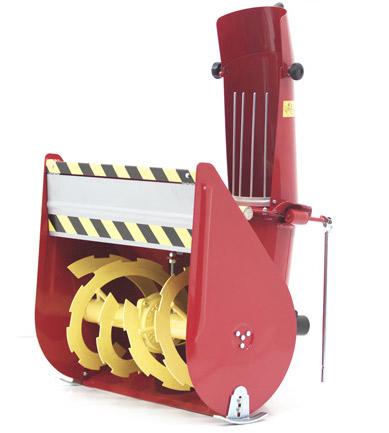 Ciampelli Price: On demand
Two Stage snow thrower Bittante DS 60 for 2 wheels tractors BCS Ferrari Pasquali
The DS -Double Stadium snowthrower is suitable for a fast and easy clearing snow from villas, houses, hotels, private roads, etc., which, thanks to its dual-phase of work can support a large amount of snow and operate in extreme conditions
Technical features.
It 'a turbine arranged to be applied to any type of walking tractor or power mower. The milling drum assembly with the front serration icebreaker carries the snow to a turbine rear equipped with powerful blades which throw the snow at a distance of 10-15 meters depending on the type of snow, and is fixed by screws chopping mild steel to safeguard an any undue strain. The ejection ejection chimneyof launch is directable by means of the crank fixed to the driving position, the height from the ground is adjustable by means of the legs slide.
The standard attach of this implement is for last type of PTO for BCS Ferrari Pasquali 2 wheels tractor (e.g. BCS 740, 720, 730, 738 etc).
This is possible to adapt the attach to others brands/models of two wheels tractors like Goldoni, Bertolini, etc (there is an extra cost of 40,00 Euro).
Attention: you will receive the snow thrower in gray colour (instead of red)
Techincal specifications:
Dimensiosi: 60 x 70 cm
Weight: 60 kg
Power required: 10-12 hp