STIHL Petrol Long-reach Hedge Trimmer HL 92 C-E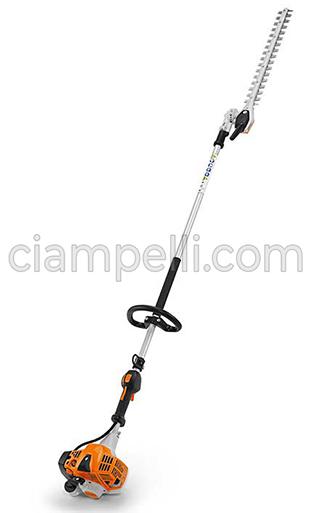 Lightweight long-reach hedge trimmer with long shaft
Ciampelli Price: On demand
STIHL Petrol Long-reach Hedge Trimmer HL 92 C-E
Long reach hedge trimmer for landscaping and property maintenance. Well balanced and light, this tool is perfect for tall hedges and working close to the ground. The efficient 2-MIX engine with ECOSPEED load control is ideal for working in noise sensitive areas. Features STIHL Ergostart for easy starting and versatile 145 degree adjustable cutter bar for different working angles.
STIHL 2-MIX-Engine
The STIHL 2-mix engine specially designed for the new generation of hedge trimmer combines low consumption and emissions ​​with low weight and excellent acceleration. There are also always sufficient power reserves for cutting thicker shrubs.
STIHL ECOSPEED
With the ECOSPEED function, you can use your long reach hedge trimmer in a more economical operating mode. Simply turn the wheel to the minus direction, thereby reducing the maximum engine speed. This keeps your long reach hedge trimmer running at partial load; however, despite this limited setting, you can shift to full capacity when necessary by pressing the throttle lever. Operating at partial load reduces fuel consumption and you can work much longer with one tank.
Blade system
Double-sided cutting blades ensure a powerful and precise cut even through thicker branches.
Quick-release adjustment system
The cutter bar can be adjusted in increments up to 145° in two directions. To save space, the cutter bar can be folded parallel to the shaft, and locked, for transport.
Loop handle
The loop handle gives you maximum flexibility and easy operation even in confined working conditions.
Clip
The clip for the belt is rotatable, making the tool easier to manoeuvre.
Multi-function control handle
The multi-function handle on the long-reach hedge trimmers enables all the engine functions to be easily controlled.
Manual fuel pump (purger)
A small fuel pump delivers fuel to the carburettor at the touch of a button. This reduces the number of starting pulls required following extended breaks in operations.
Shoulder strap / carrying system
Using a STIHL shoulder strap or carrying harness with soft padding makes work more comfortable, particularly during lengthy jobs.
Technical data
Vibration level right m/s² 1)
5.4
Tooth spacing mm
34
Vibration level left m/s² 1)
6.5
CO2 g/kWh
794
Power output

kW

/bhp

0.75

/ 1.0
Stroke rate 1/min
3.615
Tooth spacing mm
34
Performance kW
0.9
Sound pressure level dB(A) 2)
91
Performance bhp
1.2
Displacement cm³
24.1
Sound power level dB(A) 2)
107
EPA Certified fuel consumption l/h
0.523
Weight kg 3)
6.0
Total length cm
232
Blade length cm
50