STIHL HSA 56 Cordless Hedge Trimmer with 1x AK 10 battery and AL 101 charger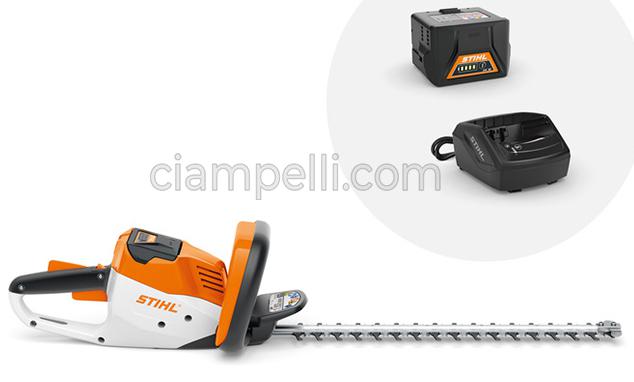 AK System cordless hedge trimmer with 18" / 45 cm blade length
Ciampelli Price: On demand
STIHL HSA 56 Cordless Hedge Trimmer with 1x AK 10 battery and AL 101 charger
Whether you are pruning shrubs or tackling hedges the HSA 56 is the perfect choice. Light and simple to use, this hedge trimmer is designed with comfort in mind and thanks to the cordless technology, it is quiet too. The impressive cutting performance will make light work of all those trimming jobs around the garden.
AK 10
Compact lithium-ion battery for the AK System with a voltage of 36 V and a capacity of 72 Wh. Battery life depends on the device type. With charge level indicator (LED). Compatible with AL 101, AL 100, AL 300 and AL 500 chargers.
Quiet technology
The STIHL cordless tools are so quiet you don't even need to wear ear protection.
AL 101 charger
Charger for the STIHL Compact Cordless System. With operating mode indicator (LED) and cable tie with Velcro tape. The charger can be wall mounted if required.
Neutral battery position
The battery can be inserted into the tool in 2 stages. In the first neutral position, the battery is secured in the tool but does not connect with the contacts, allowing for safe transport. In the second operating position, the battery is completely inserted allowing for full operation of the tool.
Blade tip protector
The tip protector comes fitted as standard and makes cutting near the ground or along walls easier, whilst helping to protect the cutters from damage.
Double sided cutting blades
STIHL hedge trimmers with double-sided cutting blades cut both vertically and horizontally.
Hanging eye
The hedge trimmers can be conveniently hung up on the wall with the hanging eye.
Technical data
| | |
| --- | --- |
| Stroke rate rpm | 2.800 |
| Cordless technology | AK System |
| Rated voltage V | 36 |
| Working time with AK 10 min 1) | up to 50 |
| Run time with AK 20 battery min 2) | up to 100 |
| Weight kg 3) | 2.9 |
| Total length cm | 94 |
| Sound power level dB(A) 4) | 91 |
| Sound pressure level dB(A) 5) | 80 |
| Vibration value, left m/s2 6) | 2.7 |
| Vibration value, right m/s2 6) | 1.2 |
| Blade length cm | 45 |
| Recommended battery | AK 10 |