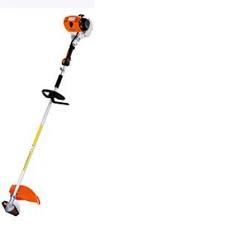 STIHL Brushcutter FS 89 R
Ciampelli Price: On demand
STIHL Brushcutter FS 89 R
Robust trimmer for high demands and frequency of use.
Equipped with patented 4-MIX engine.
Circular handle for a great freedom of movement.
Feeding mixture.
Excellent power-to-weight ratio.
Exhaust gas emissions lower than a 2 stroke engine.
Ideal for mowing large areas to green and tenacious weeds.
Mounting the appropriate cutting tool allows you to cut BlackBerry bushes and shoots of young trees.
Weight without cutting tool/shelter 5.3 kg
Total length without tool 1.8 m
Standard cutting tools C Printhead Printhead AutoCut AutoCut
Vibrating left/right K factor according to RL 2006/42/EG = 2 m/s² 2.8/4.2 m/s²
Sound power Factor K according to RL 2006/42/EG = 2.5 (dB (A)) 91.0 dB(a)
Acoustic pressure level K Factor according to RL 2006/42/EG = 2.5 (dB (A)) 101.0 dB(a)