STIHL BGA 200 Cordless Blower without battery and charger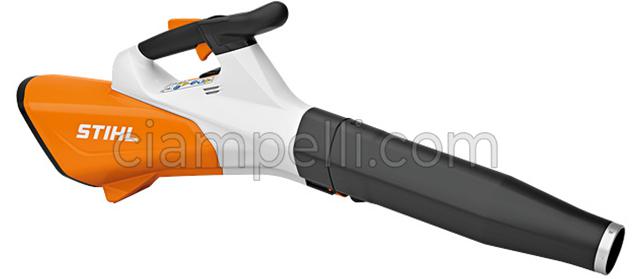 Powerful cordless blower with high blowing force
Ciampelli Price: On demand
Share on:

STIHL BGA 200 Cordless Blower
The BGA 200 is a powerful cordless blower with high blowing force (21 N) and high air speed (84 m/s) for professional clearing jobs. The 21 N blowing force on this cordless model is now between the BR 350 (17 N) and BR 450 C-EF (26 N), providing ample blowing power for a professional user. Its low noise means no ear defenders required during us. It is also very flexible in the way it can be used; hand-held when in narrow areas or utilise the new comfort carrying system for larger areas where it hooks onto a hip adaptor for a carrying system. It also features cruise control and quick blower tube adjustment via a quick release clasp.

2-in-1 working modes
The BGA 200 is flexible in use thanks to two working modes. Handheld mode is ideal in tight or narrow areas. In the suspended mode with the comfort carrying system, large areas can be comfortably cleaned even during all-day work.
Second handle
Ensures an increase in working comfort by changing the working position. It is ideal when used with the comfort carrying system.
Lock mode
Allows you to lock any desired level of blowing speed at the push of a button. It is ideal when used with the comfort carrying system and the second handle.
Wrist-relief
Due to the curved shape, the device does not "tip" away during blowing. Even in the boost mode, there are no torsional forces in the wrist. This ensures wrist-friendly, comfortable work.
Quick adjustment of the blowpipe
The BGA 200 has a quick adjustment of the blowpipe at the push of a button. For example, the blowpipe can be shortened in no time for use in narrow work areas - and can then be extended again just as quickly and easily. This enables comfortable work with high efficiency in all cleaning situations.
Central control unit
For maximum energy efficiency, the output can be adapted to the respective task via three output levels. The respective power level is indicated by illuminated LEDs.
Boost function
By overpressing the switch lever, the maximum blowing force is available regardless of the preselected power level. The hand position does not have to be changed.
Hanging loop
There is a hanging opening in the handle housing, where you can hang the device securely on the wall
Technical data
| | |
| --- | --- |
| Weight kg | 3.2 |
| Working hours per battery charge with AR 2000 L, level 2 min 1) | up to 146 |
| Level 1- working hours with AR 3000 L min 1) | up to 500 |
| Working hours per battery charge with AR 2000 L, boost min 2) | up to 53 |
| Working hours per battery charge with AR 2000 L min 1) | up to 315 |
| Boost mode - working hours with AR 3000 L min 1) | up to 85 |
| Level 3 - working hours with AR 3000 L min 1) | up to 117 |
| Level 2 - working hours with AR 3000 L min 1) | up to 220 |
| Working hours per battery charge with AR 2000 L, level 3 min 1) | up to 76 |
| Cordless technology | AP System |
| Weight kg 3) | 0 |
| Blowing force N 4) | 21 |
| Recommended battery | AR 3.000, AR 3.000 L |
| Rated voltage V | 36 |
| Sound pressure level dB(A) 5) | 80 |
| Sound power level dB(A) 5) | 91 |
| Max. airspeed m/s | 84 |
| Max. Airflow m³/h 6) | 940 |
| Vibration value, right m/s2 7) | 0.7 |
| Battery life time AR 3000 min 1) | up to 376 |
| Battery life time AR 2000 min 1) | up to 295 |
| Working hours per battery charge with AR 2000, level 2 min 1) | up to 121 |
| Battery run time with AP 300 min 8) | up to 78 |