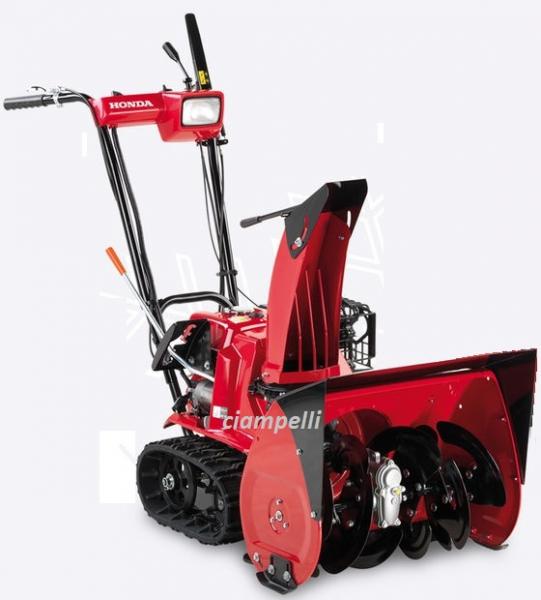 Snowthrower HONDA HSS 655 H T with tracks IN STOCK fast shipping
List price:

2.312,50 €

- 20%
Ciampelli Price:

1.850,00 €
Snowthrower HONDA HSS 655 HT with tracks
Manual recoil pull-start
Track model
Tracks provide superior traction through most snow conditions, and make this snowthrower perfect for uneven ground and gravel paths. And with no slipping or sliding, even on steep slopes, you're in complete control.
Light as standard
A powerful adjustable spotlight makes the Honda Snowthrower easy to use, even in the dark.
Gearbox
More gears means more control over power. The gearbox transfers the correct power and torque to work the machine, letting you pick the perfect speed to match your pace.
Tecnical specifications
Engine

| | |
| --- | --- |
| Speed (km/h) | 1.22-3.06 |
| Engine Model | GX 160 |
| Net power (kW/rpm) | 3.6/3,600 |
| Fuel capacity (L) | 3.1 |
| Operating time (hrs/min) | 2.7 |
| Starter system (AMP.) | Easy start |
| Sound pressure level at workstation (98/37/EC, 2006/42/EC.) (dB(A)) | 85 |
| Guaranteed sound power level (2000/14/EC, 2005/88/EC.) (dB(A)) | 100 |

Function

| | |
| --- | --- |
| Auger clearing width (cm) | 55 |
| Clearing height (cm) | 50 |
| Clearing capacity (tonnes/h) | 37 |
| Throwing distance (m) | 14 |
| Auger height adjustment | 3 Stage Manual |
| Discharge chute adjustment | Manual |
| Drive | 3 gears, including reverse |

Dimensions

| | |
| --- | --- |
| Length (cm) | 150 |
| Width (cm) | 55 |
| Height (cm) | 112.5 |
| Dry weight (kg) | 75 |