HONDA HHH 25S 75 ET Hedge Trimmer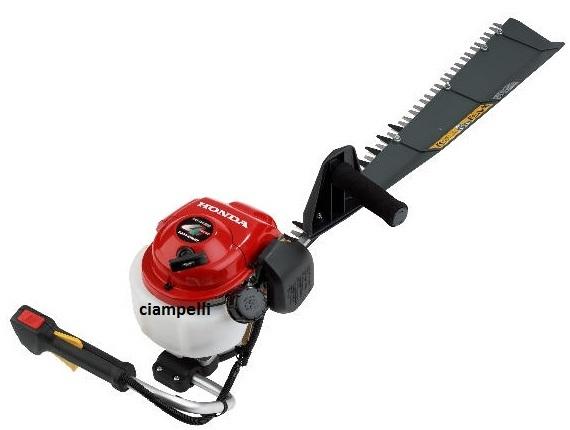 List price:

673,00 €

- 19%
Ciampelli Price:

545,13 €
HONDA HHH 25S 75 ET Hedge Trimmer
A 25cc hedgetrimmer with a 720mm single blade and clipping collector guard.
The Honda HHH 25s Hedge Cutter is an ideal tool for looking after gardens and parks. It can handle shaping or heavy trimming with ergonomic, vibration reducing controls,
easy starting engine and lightweight design.
Honda combines a classic hedgecutter design with a mini four stroke engine and is a world first. It also possesses an easy starting mechanism for smooth operation and
reliability and the four stroke technology ensures lower fuel consumption and exhaust emissions than an equivalent two stroke engine. It is also significantly quieter to use
without compromising maximum performance.
The world's first 4-stroke hedgetrimmer, the Honda HHH 25S is ideal for tending large gardens and parks, ideally suited to shaping or heavy trimming. Vibration reducing
controls, an easy starting engine and lightweight ergonomic design allowing you to work more comfortably. And for longer. This machine boasts the same power and
performance as comparable 2-stroke machines, but is significantly more economical with fuel, cleaner with no mixing of fuel/oil, quieter and more environmentally friendly
(complying with the stringent EN2006 emissions standard).
| | |
| --- | --- |
| Engine | 4-stroke OHC |
| Engine Displacement (cc) | 25 |
| Engine Model | GX25T |
| Engine net power (kW/rpm) | 0.72/7,000 |
| Fuel tank capacity (Litres) | 0.58 |
| Engine oil capacity (Litres) | 0.08 |
| Transmission | Centrifugal clutch |
| | |
| --- | --- |
| Blade Type | Single |
| Blade Length (mm) | 720 |
| Blade Spacing (mm) | 36 |
| | |
| --- | --- |
| Noise Value - sound power level (dB(A)) | 104 |
| Dimensions (L x W x H) (mm) | 1,125 x 310 x 259 |
| Dry Weight (kg) | 5.8 |
| | |
| --- | --- |
| Additional Features | Clipping collector guard |