HONDA HHH 25D 75 ET Hedge Trimmer Double Blade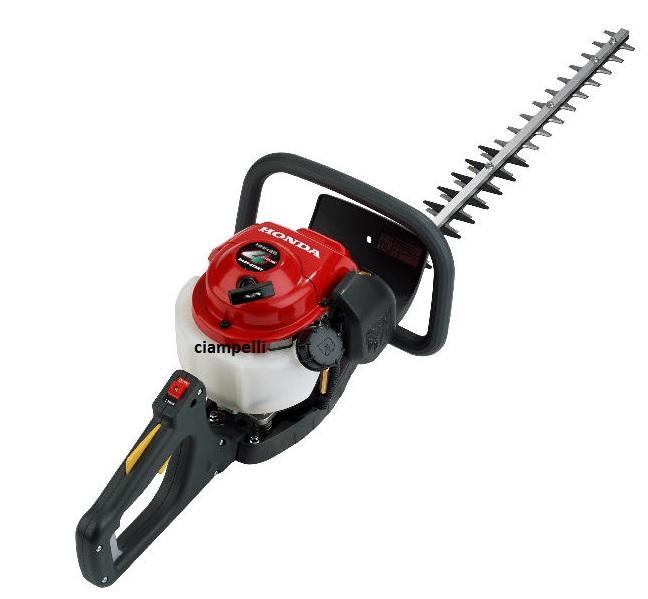 List price:

705,00 €

- 21%
Ciampelli Price:

556,95 €
HONDA HHH 25D 75 ET Hedge Trimmer Double Blade
A 25cc hedgetrimmer with 720mm dual blades.
Honda's famous engineering delivers the world's first 4-stroke Hedge Cutter, making it the most powerful and lightweight machine in its class.
With its ultra-quiet 4-stroke engine this little beauty makes the uncomfortable vibration and ear-piercing wait of the 2-stroke obsolete. The unique 4-way Anti Vibration Handle reduces vibration while the ergonomical 3-way Rotational Rear Handle ensures precise trimming and user comfort every time.
Unlike its 2-stroke rivals the Honda 4-stroke Hedge Cutter runs on unleaded fuel so you'll never have to mix oil and petrol again and it will start first time, every time.
Honda combines a classic hedge trimmer design with a mini four stroke engine and is a world first. It also possesses an easy starting mechanism for smooth operation and reliability and the four stroke technology ensures lower fuel consumption and exhaust emissions than an equivalent two stroke engine. It is also significantly quieter to use without compromising maximum performance.
| | |
| --- | --- |
| Engine | 4-stroke OHC |
| Engine Displacement (cc) | 25 |
| Engine Model | GX25T |
| Engine net power (kW/rpm) | 0.72/7,000 |
| Fuel tank capacity (Litres) | 0.58 |
| Engine oil capacity (Litres) | 0.08 |
| Transmission | Centrifugal clutch |
| | |
| --- | --- |
| Blade Type | Dual |
| Blade Length (mm) | 750 |
| Blade Spacing (mm) | 36 |
| | |
| --- | --- |
| Noise Value - sound power level (dB(A)) | 104 |
| Dimensions (L x W x H) (mm) | 1,220 x 312 x 259 |
| Dry Weight (kg) | 6.6 |
| | |
| --- | --- |
| Additional Features | 180° adjustable handle |