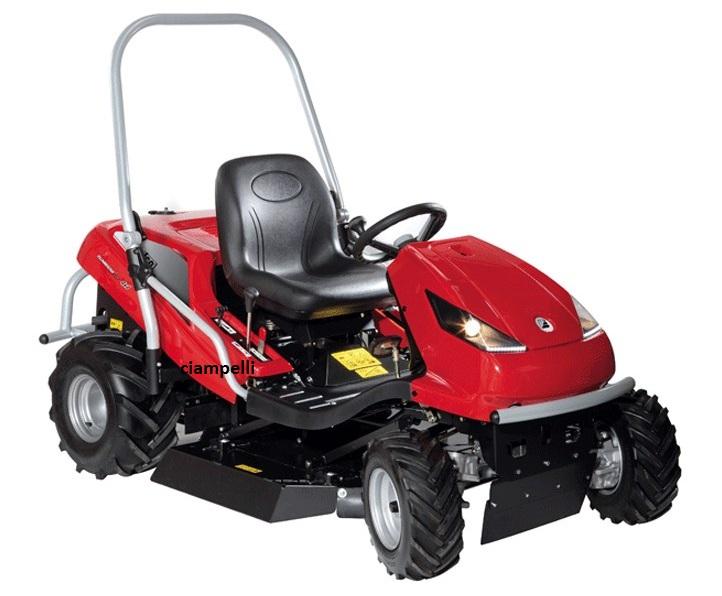 EFCO TUAREG 92 EVO Hydrostatic Lawn Tractor
Ciampelli Price: On demand
Ride-on Tractor TUREG 92 EVO
The Tuareg 92 garden tractors are characterized by extreme toughness and reliability, qualities recommending it as the ideal machine for clearing and tidying up areas overgrown with thick vegetation, typically on uneven and sloping terrain.
Equipped with a powerful mower attachment having a single rotary swing-tip blade.
A large tyre footprint and a low centre of gravity combine to give the machine maximum stability, even on steeper gradients or near banks and ditches.
The operator's task is made easy by a generous array of features: electro-magnetically operated clutch, hydrostatic transmission, lockable differential enabling the machine to negotiate conditions of whatever nature on any type of soil, and centralized cutting height adjustment.
Maximum operator protection, with roll bar, side-impact guards and seat belts.
B&S Vanguard V-Twin Engine. Two cylinder
Ideal for uneven and sloping terrain
LED Lighting System
Propulsion Hydrostatic. Self-Locking differential
TECNICAL DATA:
Engine B&S VANGUARD V-TWIN TWO CYLINDER

Displacement: 570 cc

Hydrostatic Transmission

Self-locking differential

Centralized deck lift (50-60-75-90 mm)

Cutting Width: 92 cm

Single Rotary Blade

Dimensions: 210x99x99 cm

Weight: 260 Kg