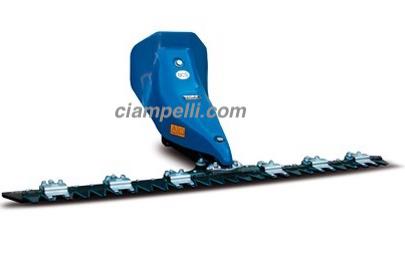 BCS Laser cutter bar 115 cm with oil bath movement for Two-wheel tractor Scythe mower
Ciampelli Price: On demand
BCS Laser cutter bar 115 cm with oil bath movement for Two-wheel tractor Scythe mower
The cutter bar is the specific implement for cutting grass and forage.
These anti-clogging bars are recommended for tough and fine grass typical of mountain sides or manicured lawns. The perfect "scissor cut" is guaranteed by high quality materials.

BCS has produced a range of cutter bars for motor-mowers and two-wheel tractors named "Laser®", which means perfect and accurate cut.

The features that make the "Laser®" cutter bars even more performing than the current bars are:
1. Rounded edged crossbar to prevent damage in case of shocks,
2. Strip blade cylindrical nailing for tenacious securing to the blade strip and to facilitate replacement thereof in the event of breakage,
3. The tunnel moulded tooth allows new cylindrical nailing, thus improving both cutting and durability, and prevents abrasion of the strip blades securing rivets,
4. Professional skids, to adjust the cutting height in a precise and optimum manner,
5. Blades to eliminate improper movements of the blade when in operation,
6. Full thickness screws in the blade base to optimize securing of the blade base,
7. Moulded and tempered stainless steel blade base to optimise the efficiency,
8. Supports for moulded and tempered blade holders to optimize the efficiency and durability,
9. Blade attachment, improved with reinforced steel bridge, tempered to optimize the efficiency and durability.
Each of these Plus makes "Laser®" bars a highly professional product both under a quality point of view, for the accuracy in the material selection, and under the performing side thanks to the new cut setting.
The blade is much more bound to the crossbar and much more solid is the union between the blade and the attachment, thanks to a new base of new design.

A new setting has been created, even for nailing the blade: cylindrical nailing (instead of the tapered one) has allowed to improve even more the reliability by reducing in a tangible way maintenance costs.

The crossbar was realized with bevelled edges to avoid the use of any side shields. In case of accidental shocks during work, therefore, the blade does not damage anything and neither does it damage itself.

The most significant Plus, however, remains the tunnel moulded tooth that optimises the blade flow set-up. The strip blades nailing is thus safeguarded and the rivets are no longer liable to get scratched because of contact with the tooth. The conformation of the said tooth facilitates discharge of the cutting residuals, while keeping clean the blade in spite of bountiful and tenacious grass.

The professional skids for adjustment of the cutting height (approximately between 20 and 80mm) thanks to their conformation combined with the quality of the materials, make the "Laser" bars efficient and effective on any type of ground.