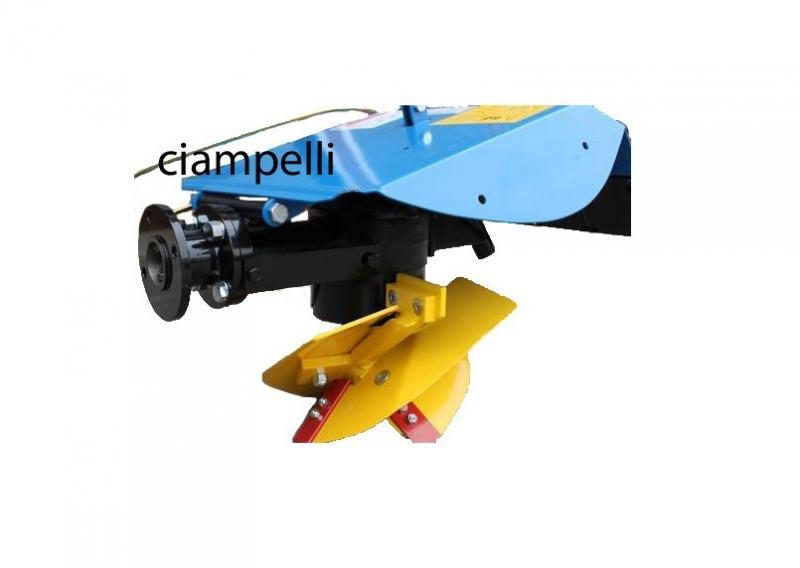 BERTA rotary plough for two wheels tractors
List price:

1.402,44 €

- 18%
Ciampelli Price:

1.150,00 €
BERTA ROTARY PLOUGH:

100 % Made in Italy
The Rotary Plough is the better machine for breaking up very hard ground.
It allows to plow easily in previously uncultivated ground.
The standard attach is compatible with the BCS FERRARI PASQUALI CAMON two wheel tractor (new type PTO)
It is also possible to make the attach for BCS old type PTO or other brands of two wheel tractor e.g. GOLDONI, GRILLO, CARRARO etc..... with extra 30 Pounds.
Please contact me to confirm the compatibility.
It is also possible to make (with extra 35 Pounds) the attachement compatible for almost any brand of cultivator: contact me to verify the compatibility.
The 4 blades are vertically driven and turn at approximately 300rpm. Thanks to the corkscrew action the plough is berthed to the ground, turning the soil over and throwing it out to the side.
About planting seeds and vegetables the rotary plough leaves 25-30cm of worked soil, in every single pass.
The horizontal action of the blades through the soil causes little or no hardpan.
Thanks to a gauce wheel the digging depth is easily controlled.
Also the discharge is easily controlled by the adjustable top cover and a removable side flap.

TECHNICAL DATA:
Demanded minimal power: 8 hp
Working width: 20cm to 25cm (8" to 10")
Digging depth: 25cm to 30cm (10" to 12")
Compatible with: BCS 740, C 13
Dimensions: 50x70x55
Weight: 43 kg